Een van mijn favoriete merkjes, iglo+indi, heeft zijn nieuwe collecties klaar voor jullie! Shadow Play is de AW16 collectie, die je nu stilaan kan verkrijgen in de shops en de collectie voor volgend seizoen is ook al bekend. Benieuwd? * One of my favourite brands, iglo+indi, has their new collections ready for you! Shadow Play is the new AW16 collection, which is almost available in stores. The SS17 collection is also finished and I will give you a sneak peek. Curious?
Shadow Play
De inspiratie voor de herfst/winter collectie van iglo+indi komt van de wereld van de insecten en gehoornde dieren die in de schaduwen van de bossen leven. Kevers, neushoorns, vlinders, vleugels en lieve monsters maken de collectie heel leuk en eigenzinnig. Zachte kleuren zoals perzik, krijtkleur, zilvergrijs en zachtblauw geven de collectie een 'aards gevoel'. Deze collectie is volledig organisch en gemaakt van GOTS gecertificeerd organisch katoen!
For Autumn/Winter 2016, iglo+indi draws inspiration from the world of insects and horned animals lurking in the shadows behind the forest trees. With beetles, rhinos, butterflies, wings and gentle monsters the collection is quirky and fun. Toned down colours of pale peach, chalk, silver grey and the northern sky give the collection an earthy feel. The iglo+indi AW16 main collection is now entirely organic and made with GOTS certified organic cotton.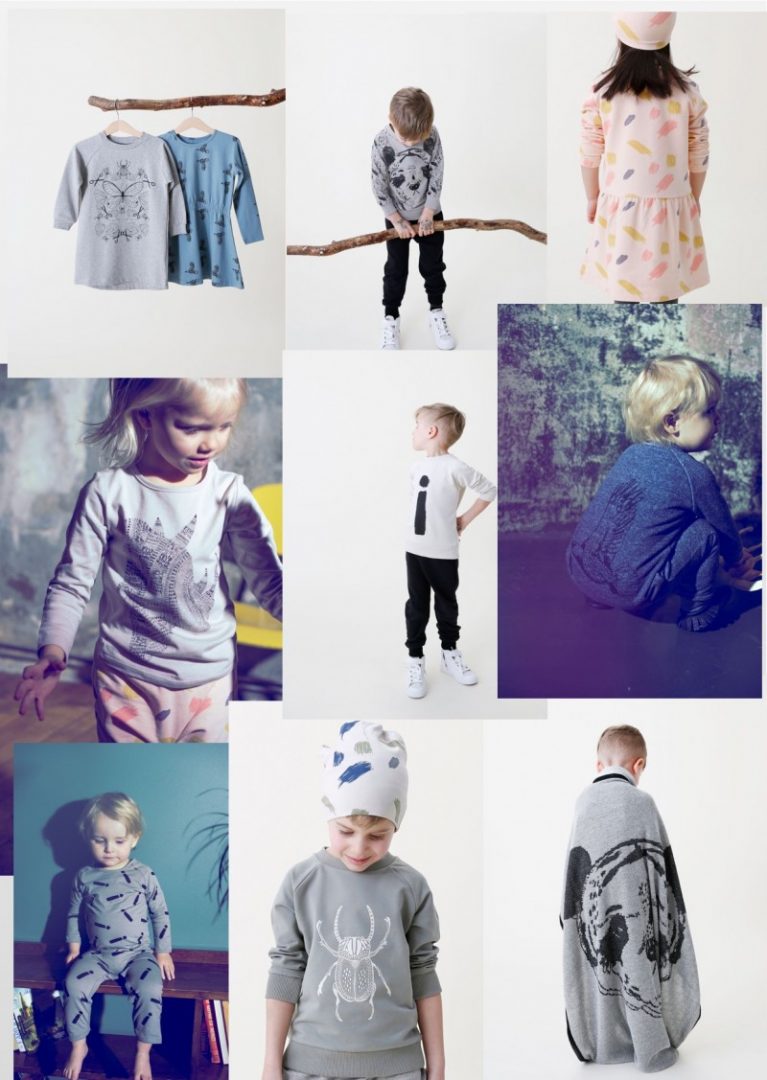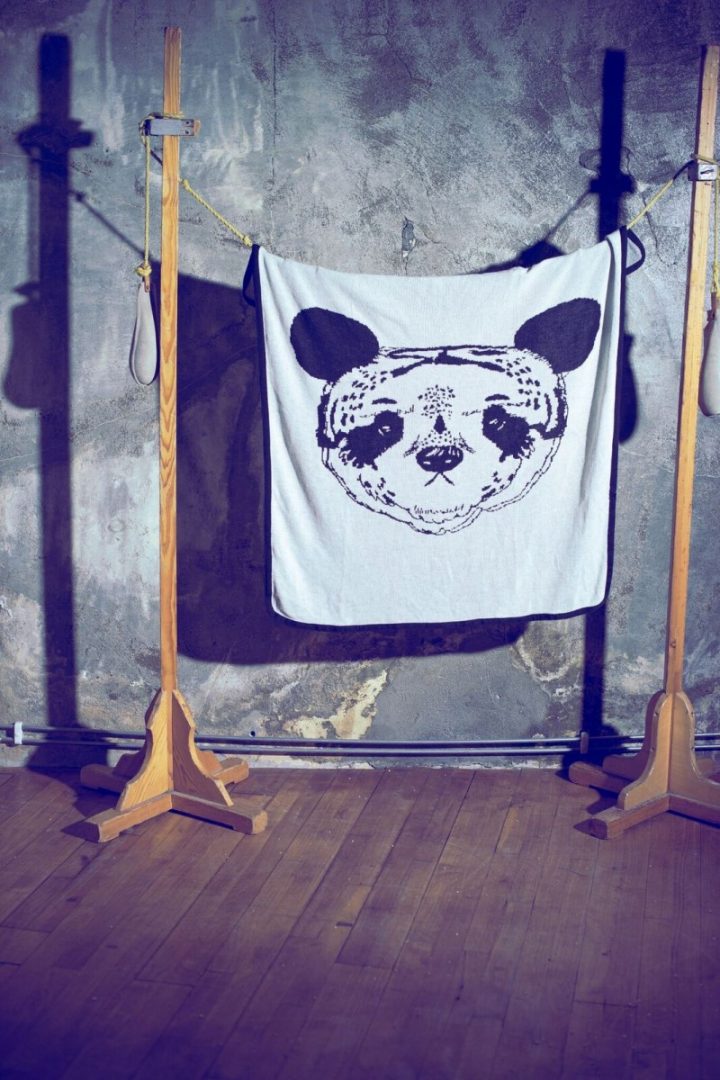 Suburban Adventures
Voor volgende lente en zomer 2017 heeft iglo+indi inspiratie opgedaan van het "suburban life" in IJsland. Een klein stadje omgeven door natuur. De kinderen staan vroeg op, gekleed in laagjes, een kleedje met katten met 'bubblegum' leggings en een oversized sweater van grote zus. Ze vullen hun rugzakken met hun favoriete spullen, een leuke pop, een pot vol beestjes en vlinders en nemen eten mee voor de hele dag. Ze zetten hun kleine kat in het mandje aan de fiets en trekken erop uit om nieuwe avonturen te beleven. Ze keren pas terug naar huis als het donker wordt. Haren, katten, vogels, insecten en felle kleuren maken de collectie helder en speels. Deze collectie is volledig organisch en gemaakt van GOTS gecertificeerd organisch katoen!
For Spring/Summer 2017, iglo+indi draws inspiration from the suburban life in Iceland. The setting is a small town surrounded by nature. The kids wake up early, dressed in layers of clothes, a cat dress paired with bubblegum leggings and an oversized sweater from their big sister. They fill their backpacks with their favourite things, a favourite doll, a jar for bugs and butterflies and food to last the whole day. They put their little cat in the basket,jump on their bikes and off they go for exploration and new adventures, only to return home under the midnight sun. With hares, cats, birds and bugs, crisp colours of papaya, light lemon, aqua and sky blue, the collection is bright and playful. The iglo+indi SS17 main collection is entirely organic and made with GOTS certified organic cotton.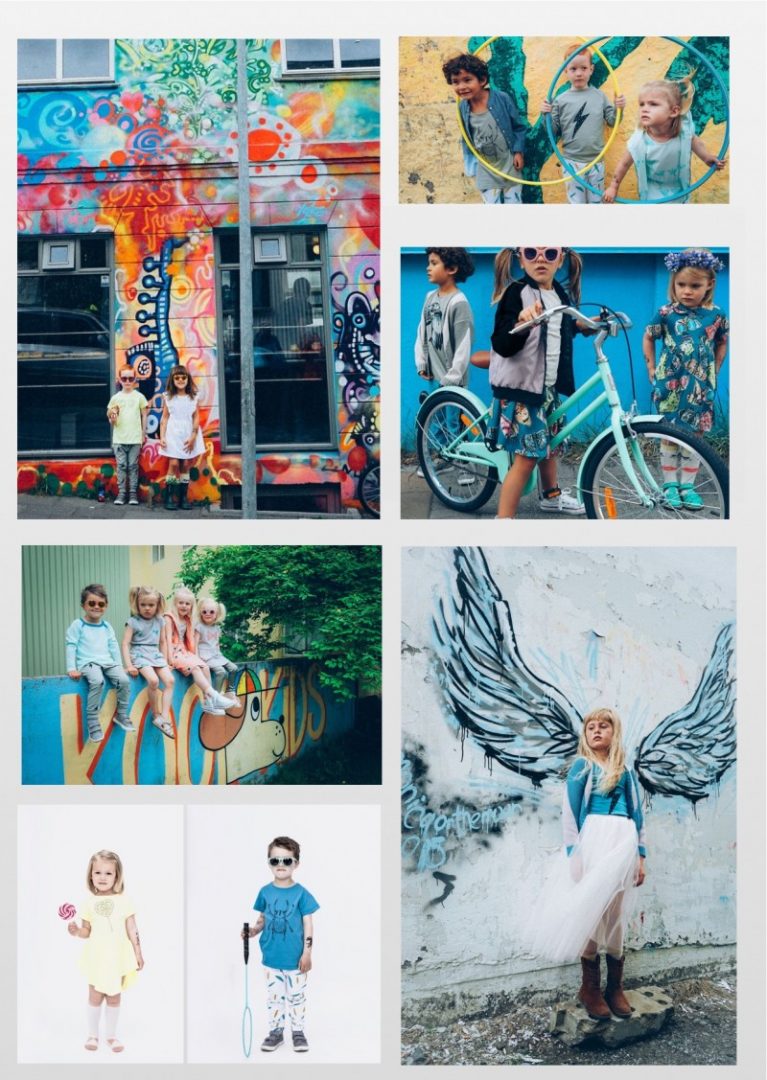 My choice
Mijn keuze is reeds gemaakt! Ben je benieuwd welke items mijn favorieten zijn? Dat kan je volgende keer zeker zien. Ik hou van de zachte kleuren voor de winter. Vooral de sweater met de grote 'i' en het panda deken! Ik hou jullie op de hoogte. Voor de volgende zomer heb ik mijn keuze ook al gemaakt. We kunnen ons verwachten aan leuke tank tops en leuke kleurtjes. Zalig!
My choice is already made. Are you curious about my favorite items? You will see it next time. Keep you posted. I love the soft colors for winter and especially the sweater with the big 'i' on it. Also the blanket. Love it. For next summer, I have also made my choice. Many tank tops and bright colors… Can't wait!
Shop iglo+indi in Belgium at URBANminiSHOP, BoBilly, Little Happiness …
Shop iglo+indi in the Netherlands at Little Different , Cowboy Billy, …
Shop iglo+indi in other countries at Iglo+Indi , Stadtlandkid, …
Wat denken jullie van de nieuwe collecties? What do you think of this new collections?
XOXO Nathalie